Here at English Martyrs' we believe that all children should have a good understanding that although the Internet is a great learning resource, it can also be a dangerous place that should be treated with respect.
Within our school, we encourage the children to stay SMART when working online, as outlined below: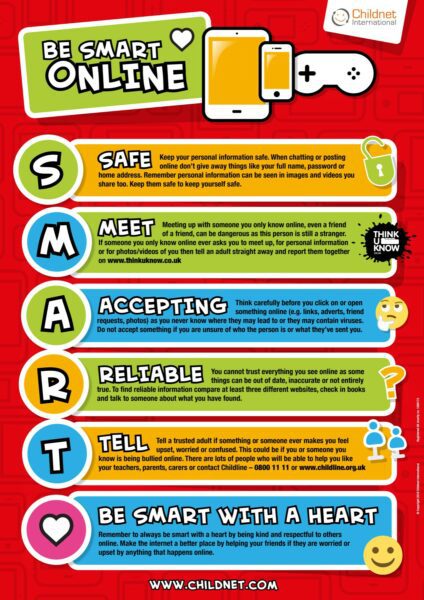 When using information and communication technologies, we constantly emphasise the importance of living out the SMART message and teach our children to respect the opportunities they have through a well structured and progressive curriculum. A copy of this can be found at the bottom of this page.
It is also important, however, that the SMART message is lived out at home. A copy of the SMART poster can be found at the bottom of this page which can be printed and displayed near your home computer and in your child's home/school diary. We also have leaflets available in school which outline this.
Anything online which makes you or your child feel uncomfortable should be reported to CEOP (Child Exploitation and Online Protection Centre).
As a school, we would also like to hear any issues that you may experience online. This information, if appropriate, may then be shared with our wider school community. Please feel free to contact the school directly.
There are a range of downloads at the bottom of this page, including information that will be shared at the November E-safety parent forum these all offer a wealth of advice with regards to keeping your child safe when using information and communications technology. Please feel free to speak to Mrs Jones or Mrs McElhone should you have any questions or concerns.
Think U Know – Great advice to keep children safe whilst using the Internet.
NSPCC launch 'Share Aware' campaign
Parents' concerns about social networking sites popular with children are revealed today, as the NSPCC launches its Share Aware campaign to get families talking about socialising safely online.
An NSPCC panel of more than 500 parents from Mumsnet reviewed 48 of these sites and said all those aimed at adults and teenagers were too easy for children under 13 to sign-up to. On more than 40 per cent of the sites, the panel struggled to locate privacy, reporting and safety information. At least three quarters of parents surveyed by the NSPCC found sexual, violent, or other inappropriate content on Sickipedia,Omegle, Deviant Art, and F my Lifewithin half an hour of logging into the sites. Those aimed at younger children, like Club Penguin,Moshi Monsters, Popjamand Bearville, fared better and parents did not find any unsuitable content on them. The NSPCC also asked just under 2,000 children and young people which social networking sites they used. Talking to strangers or sexual content were the main concerns mentioned by children. But they also thought the minimum age limit for signing up to many sites should be higher, despite saying they'd used the sites when they were underage.
The NSPCC has used the reviews to create a new online guide to help inform parents about the risks of different social networking sites used by children.
Peter Wanless, CEO of the NSPCC, said: "Children are taught from an early age that it is good to share but doing so online can be very dangerous. We must all be Share Aware. This Christmas many children will have been given a smart phone, a tablet computer, or a games console. So it's the perfect opportunity for parents to have that important conversation with their children about who they are talking to and what they share when they socialise online. We know that children do take risks online, sometimes without realising it. And we know some parents feel confused by the internet – out of their depth, and out of control. Our Share Aware campaign gives parents straightforward, no-nonsense advice that will help them to untangle the web and feel confident talking to their children about online safety. Keeping children safe online is the biggest child protection challenge of this generation. Parents have a vital role to play but we want social networking sites to respond to parental concerns about their children's safety and privacy. The NSPCC will continue to challenge and work with internet companies and the Government to make the internet a safer place for children."
The NSPCC's Share Aware campaign is aimed at parents of 8 to 12-year-old children and also features two animations to be shown on prime time TV and digital spaces. I Saw Your Willy and Lucy And The Boy are engaging films with a serious message that follow the stories of two children who share too much about themselves online. Both films contain the simple message that although children are taught that it's good to share, this is not always the case online.